Because I have worked with different Designers and Usability Experts and because as Head of a Design Department I have had the opportunity to watch both types of professional from a certain distance I found out that there exists a mild kind of animosity between them. Designers feel as if Usability Experts are trying to clip their wings. Usability Experts feel as if Designers are only interested in making their next piece of art. But as a Designer who pays a lot of attention to the ease-of-use and proper structure of his designs I feel I am not on either side of the great divide. To me usability and creativity are of equal importance.

Usability is an attitude, not a set of rules


The ability to predict what users expect is not something that can easily be captured in a simple set of rules. No two projects are the same. Therefore one should respect the laws of usability to the spirit and not to the law. As long as the result in terms of ease-of-use, click-through-rate, etc... remains the same, there must be enough room for creativity. Therefore, if the budget permits it, the best combination on most types of projects is an experienced duo. On the one hand you need a flexible Usability Expert who recognises the added value of the designer's ideas. On the other hand you need a designer who knows a thing or two about usability and who appreciates the expert's input. But first let's talk about what you do NOT want.

The dogmatic Usability Expert


It's a good thing that there are experts that are willing to be convinced by a good argument. I had the opportunity to work with some of them. But there's also the type of expert that has a single-sided vision on usability/design interaction. He creates the same set of wireframes over and over and then he expects the designer to almost follow them to the pixel. That's because he is not a designer himself (or even worse: a bad one) and he therefore has no concept of the fact that there are more tools to the designer's disposal than he can imagine.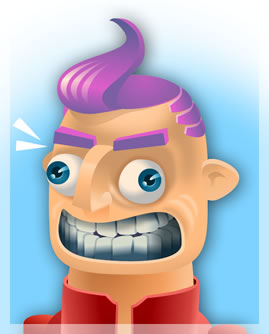 The Usability Expert
(Illustration by Foob)
The position of the page's building blocks and their percentage of space occupation are but two variables that help you optimize your lay out for a proper information hierarchy and for optimal scannability. There's also the clever use of typography, the choice of the right copy and the right type of visuals, the overall contrast, the spacing and whitespace, the alignments, the choice of the colour palet and the addition of subtle graphical effects. They all make the user subliminally group objects according to type and purpose and help him take his actions more quickly by establishing a clear visual hierarchy.
And of course, let's not forget the aspect of aesthetics. The most dogmatic experts rarely leave enough room for the kind of graphical finesse that gives a page it's appeal. Even worse, they will tend to "make correction" and in doing so risk bringing the design out of balance by creating odd spacings or by introducing graphically "alien" elements that just don't fit and have no intrinsic added value for the functionality of the design either.
In essence, to some a wireframe is like a design that only needs to have a bit of colour and a stock photo added to them. Unfortunately the logical conclusion of such a dogmatic approach would in some respects be a stagnating Internet filled with faceless websites.

The diva Designer


At the other side of the personality spectrum you can find the artistic webdesigner. He has an urge to experiment but that often comes with a tendency to create visual and logical confusion if he feels his art will be compromised by technical constraints or by expert recommendations on usability.
| | |
| --- | --- |
| | |
| | |
| | The Designer (Illustration by Foob) |
| | |
Don't get me wrong, it's good to have artists pushing the envelope. Much of what is now concidered 'best practice' started out as an artistic experiment. It's just that on most real life projects it's better to be a creative craftsman first and an artist second.
Having a dogmatic Usability Expert and a diva Designer in the same room is a bit like watching a duel between a chess player and a checkers player. They both move their pieces but the absence of a single set of rules creates confusion and in the end a less than desirable outcome.

Mixed profile


Usability and design are two sides of the same coin. A designer who is able to look at design from both angles tries on the one hand to prevent a faceless and aenemic outcome that might be the result of very strict recommendations and other constraints. It is his duty to bend the rules a bit. On the other hand he must still respect the "laws of usability" to the spirit. And in order to be understood by the Usability Expert he subsequently needs to motivate his choices also on the basis of the principles of usability. A defence based solely on aesthetic arguments is not valid.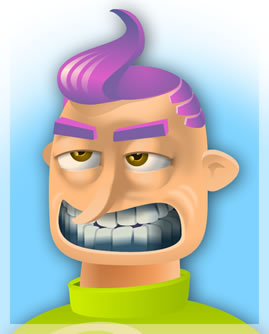 The mixed profile (Illustration by Foob)
Through regular co-operation with different usability experts and through experience I have developed an almost intuitive grasp of the principles of usability. On projects that did not have a usability expert I have often de facto acted as ergodesigner, first creating the wireframes if required. The advantage is that I can easily communicate with Usability Experts and that I can interpret their input in a correct way and take things to the next level. Another advantage is that I can propose valid alternatives if I feel this is necessary.

Conclusion


In short: in a perfect world the Usability Expert and the Designer are a team, but I can act as a hybrid usability/design expert if the project's budget doesn't allow for the presence of two experts.